Louvred gratings
Louvred JK Technic gratings with inclined blades are used for façades to provide a visual screen, a brise-soleil effect or a privacy screen, as well as to form a wall that counteracts any impressions of emptiness.
Characteristics
Louvred JK Technic grating is manufactured according to a precise load table. The dimensions of the bearing bars (BB) are important because they determine the load bearing capacity of the grating.
Mesh centre distances
These are decided based on standards and load capacity. For louvred grating, mesh centre distances for the BB and TB are typically in multiples of 11.11. JK Technic has a range of louvred gratings with different mesh available:
100 x 30 - 60 x 30 - 30 x 30.
Other options are available on request.
Bearing bars
Standard thickness: from 2 to 3 mm.
Height of BBs and TBs (in mm):
Bearing bars
25
30
35
40
50
60
Transverse bars
louvred at 45°
35
40
50
55
70
85
Dimensions
Maximum dimensions: 2,500 x 2,000 mm.
For optimal grating quality, we advise you not to exceed a height/length ratio of 1.5 m2.
Materials
S235JR steel as per EN 10025 standards.
304 (1.4301) or 316Ti (1.4571) stainless steel.
AlMg3 aluminium.
Fastening systems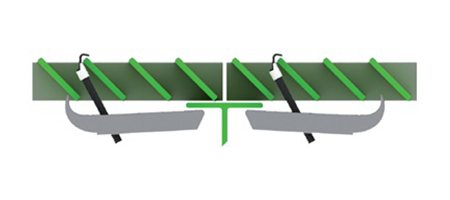 Fastening systems are manufactured from galvanised steel for steel gratings and from stainless steel for stainless steel and aluminium gratings. In certain cases, gratings may be fixed to structures with welded brackets.
Finished products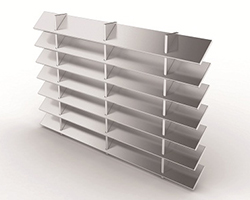 Finishes without banding bars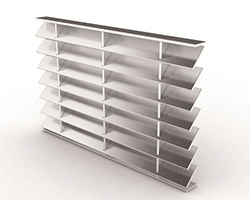 Finishes with banding bars
Direction and angle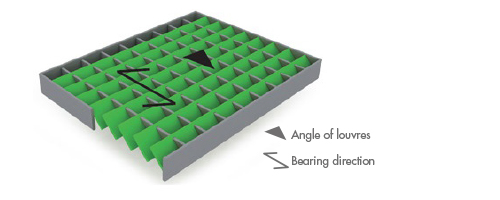 Assembly
Method of manufacture
JK Technic louvred grating is characterized by transverse bars inserted at 45° into the bearing bars (please check with us for any other angle). It can then be produced in "flat" sections, welded at right angles to the bearing bars. The grating then optionally undergoes hot-dip galvanizing in accordance with the applicable EN ISO 1461 standards. JK Technic louvred grating is typically manufactured from EN 10025 standard S235JR steel which ensures a consistent production quality.
Custom manufacture
JK Technic can manufacture made-to-measure slanted-strut gratings to meet your requirements (layout, size, etc.).
Our research department is available to handle your technical requirements, and can advise you on issues up to and including the realisation of your orders.
Aeras of application
Sun screens
Decorative
Ventilation systems
Flooring
Roofing
20 000 customers in Europe, many references.
Browse our gallery of references in industry and architecture.
Discover our gallery