RUBBER GRATING JK GUM HONEY ANTI-FATIGUE
The JK GUM HONEY ANTI-FATIGUE rubber grating is composed of octagonal holes allowing liquid to drain away. As well as giving a cushioning effect, it has a non-slip surface. It is thus primarily designed for workshops where the floor could be slippery. The textured and bevelled edges guard against all risk of loss of balance. JK Technic also offers a version in nitrile of this product which is oil and fat resistant.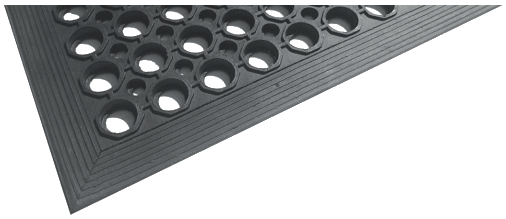 Characteristics
COMPOSITION
Natural and recycled rubber.
FINISH
Hollow round.
COLOUR
Black.
CARE
Clean with a vacuum cleaner.
Clean with lukewarm water.
ECOLOGY
Biodegradable and recyclable.
AREAS OF USE
Workspaces, building entrances, etc.
STANDARD VERSION RESISTANT
To water.
To U.V.
NITRILE VERSION RESISTANT
To water.
To U.V.
To oil.
To fats.
20 000 customers in Europe, many references.
Browse our gallery of references in industry and architecture.
Discover our gallery