RUBBER MAT JK GUM CLEAN
The JK GUM CLEAN rubber mat protects floors from stains, dirt and any waste. If shoes are wet or dirty, placing them on this mat allows you to keep your car boot or your own home clean. Lightweight and flexible, it can be moved very easily.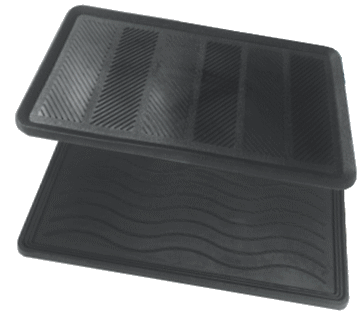 Characteristics
COMPOSITION
Natural and recycled rubber.
FINISH
Solid (with ridges).
COLOUR
Black.
CARE
Clean with a vacuum cleaner.
Clean with lukewarm water.
ECOLOGY
Biodegradable and recyclable.
AREAS OF USE
Cars, homes, etc.
RESISTANT
To water.
To U.V.
20 000 customers in Europe, many references.
Browse our gallery of references in industry and architecture.
Discover our gallery