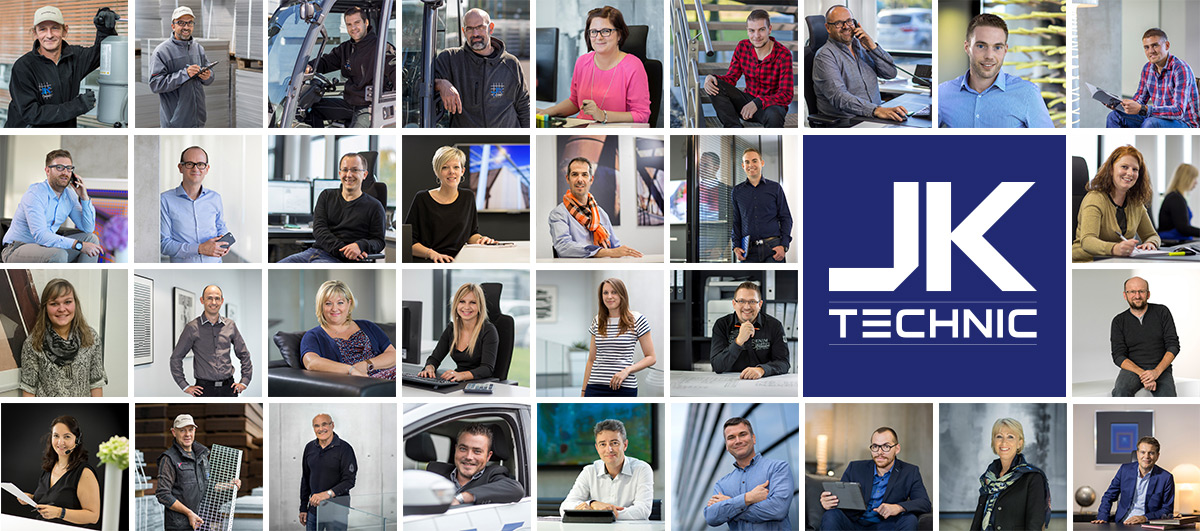 JK Technic, the grating specialist
JK TECHNIC was established on the 8 January 1996 by Mr Jean-Jacques KOCH. Located in Sarreguemines, the company knew a fast national success by winning the trust of professionals from the industrial and architectural sector right across France.
Discover the presentation video of JK TECHNIC
A team of professionals experienced in manufacture right through to implementation JK Technic is a guarantee of quality and service, from the design phase right up to the implementation of your projects. Our products are manufactured on high performance production lines using cutting-edge, advanced technology. Our sales department, in collaboration with our design office, examines your requirements, advises you and recommends the best solution for you. After manufacture, all our products undergo dual quality control (quality and quantity) in order to ensure optimum quality. As being a specialist in grating is all about designing for the future, we constantly innovate and support you through every stage of your project. This support is also provided by the logistics service, who makes every effort to guarantee delivery of your orders as soon as possible. JK Technic also guarantees an after-sales service in order to best respond to your claims and ensure your complete satisfaction. JK Technic, a team of professionals at your service. A built-in design office Custom manufacture is JK Technic's speciality. The technicians from our design office, which is a fully integrated part of the company, are always available to handle your technical requests and process your technical drawings and can advise you in collaboration with our sales department. Specially trained in computer-aided design software, our industrial designers can draft calculation notes for you and create a model for your project by finding the best solution to your specific requirements and needs, in both the industrial and architectural sectors. A commercial team close to you JK Technic is a sedentary and itinerant commercial strength, attentive to your demands and needs in order to offer you the finest solution at the best price. For purpose of reactivity and to always be closer to you, our dynamic and professional commercial team is spread out all over France. JK Technic has also an export department that can respond to all requests from international customers. In collaboration with our design office, our gratings professionals' team will be your privileged interlocutor to guide you through your projects, from the initial contact to the implementation. Custom-made manufacturing and one of the largest grating stockists in Europe As well as custom-made products drafted by our design office according to your plans and specifications, JK Technic carries a large stock of standard steel, stainless steel and FRP (panels, mats, stair treads and safety grids). We guarantee to always stay in touch with your delivery times and requirements, as responsiveness is one of our core values. This is why we have made an Express service available to our customers, which allows us to provide same-day expedition for products that are in stock and have been ordered before 10am. Being responsive, ensuring availability of our products and delivering them in the best time possible are daily challenges that we set ourselves in order to guarantee your complete satisfaction.
20 000 customers in Europe, many references.
Browse our gallery of references in industry and architecture.
Discover our gallery